THE FLEA MARKET AT
EASTERN MARKET IS OPEN
DATES / HOURS :
EVERY SATURDAY & SUNDAY. YEAR ROUND. 9AM-4PM.

LOCATION :
7TH & C STREET SE. WASHINGTON, DC
find unique and wonderful items
offered by our long standing participants. All have made considerable investments in their businesses and towards making the market experience a rich and enjoyable one.
Diverse Markets Management is pleased to announce the launch of
The SATURDAY FLEA MARKET AT EASTERN MARKET

on the C Street Plaza on Capitol Hill in Washington, DC.
August 27th, 2021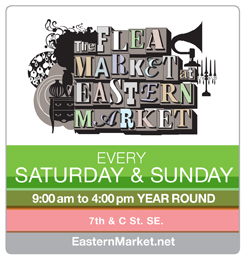 Now entering its 38th year of operations, The Flea Market at Eastern Market has operated on the 300 block of 7th St SE and the C Street Plaza each Sunday, year-round. The Flea Market, previously voted among the top flea markets in the world and which boasted on its 3rd year of operations that it had exhibitors from 5 states, now hosts exhibitors from 5 continents.

Though not the largest flea market, it is arguably one of the most diverse in the nation. The Flea Market features arts, crafts, antiques, collectibles, and imports from around the world.

Exhibitors are extremely knowledgeable of their wares and many actually make their products. The flea market has been a turning point in the development pattern of Capitol Hill. When it opened, Eastern Market was closed and the streets were deserted on Sundays. Due in large part to the foot traffic created by the flea market, Eastern Market is now a major destination for locals, area residents and tourists.


Starting September 4, 2021, Diverse Markets has contracted with 700 Penn/Eastbanc to expand the Flea Market to Saturdays on the 700 block of C Street SE.
Complementing the existing Saturday arts market and farmers market at Eastern Market and on the 300 block of 7th Street, the Flea Market will fill in a vacant area bordered by active restaurants, retail and residential apartments and condos. The market will accommodate up to 45 spaces.

While emphasizing antiques, arts, collectibles, crafts, and imports, this will be a high-quality market featuring a mix of unique products. Handmade items, artwork, imported handcrafts (Fair-Trade preferred), vintage and antique furnishings and 2 specialty foods are intended. The market offers one space size. 10x10 spaces are $60 and are oriented in 4 rows on the C Street Plaza.

Reservations and payment must be made at least 10 days in advance of the requested date.

SHOP THE FINEST FLEA MARKET IN DC


{Voted 2nd Best in the World -Huffington Post Poll}